About Us
Looking for a perfect packaging material, wait! We, P. R. Packagings Ltd., are here with a durable & sturdy range of customized cartons & packaging boxes. Our range includes Rigid Boxes, Customized Carton Box, Liner Cartons, Laminate Tubes & several other cartons & corrugated boxes. Made with the best quality paper using the latest technology, the offered range is known for its impeccable finish, optimum strength, moisture & tear resistance & good print quality. The offered range is perfect to pack food items, cosmetics, electronic equipment & more and is available in any shape, size & color as per the requirement of client.

Established in the year of 1990, we are working as a Manufacturer & Supplier of carton packaging boxes. We have gained a lot of knowledge which helps us to take the proper decision for our business. Also, we have hired a skilled team of professional to carry out different industrial activities such as marketing, designing, manufacturing, packaging etc. We organize regular training session to keep our team up to date with latest technology & market situation so they can work properly and take our company towards the success.

Product Portfolio
Being an eminent entity, we are offering a wide & durable range of customized packaging boxes & cartons. These cartons are made with good quality paper and other material to ensure its finish strength. Moreover, our designers & engineers design & manufacture these boxes with utmost perfection by using latest machines & tools. The sturdiness, tear proof nature & water resistance of the offered boxes provide optimum safety to an object which is packed inside these. Also, our clients can avail the products in customized size, shape & print from us for packaging of any specific item. Here is the range which we offer:

Mono & Duplex Cartons
Rigid Boxes
Liner Cartons
Laminate Tubes (ABL & PBL)
Labels
Production Technology
The whole production cycle comprises four different stages of manufacturing: Pre-Press, Printing, Post-press & Corrugation. We design the offered boxes in our latest Esko-Graphics Suit Workflow system which improves the efficiency of this stage. Moreover, our Esko Kongsberg Sample Maker helps our designers in working fast. Apart from this, our printing & corrugation department also has some advanced machinery which increases company's production rate & brings out the perfect range suitable for clients need. The list of machines is given below:

Conventional & UV Printing Machines
Automatic Die-Cutters
Folder & Gluer
Lamina System Gluing Stations
Auto-Laminator Machines
Scrap Conveyor System
Also, we have Ink-matching center and Embossing & Hot Foil Stamping facility in our production unit.

Quality Management
P. R. Packagings Ltd. is committed to providing utmost satisfaction to the client by meeting their needs for quality, quantity & timely delivery. Therefore our management is continuously making improvement by implementing efficient quality systems which initiate from the raw material procuring & follows until the final dispatch. Moreover, we are also able to control the waste & scrap which enhances the overall efficiency of the production plant. To check the whole range, we have the advanced testing facility which ensures the finish, moisture resistance & strength of the offered products. Also, we have got certification from ISO & British Retail consortium for the quality management system.
"We are accepting only bulk quantity orders."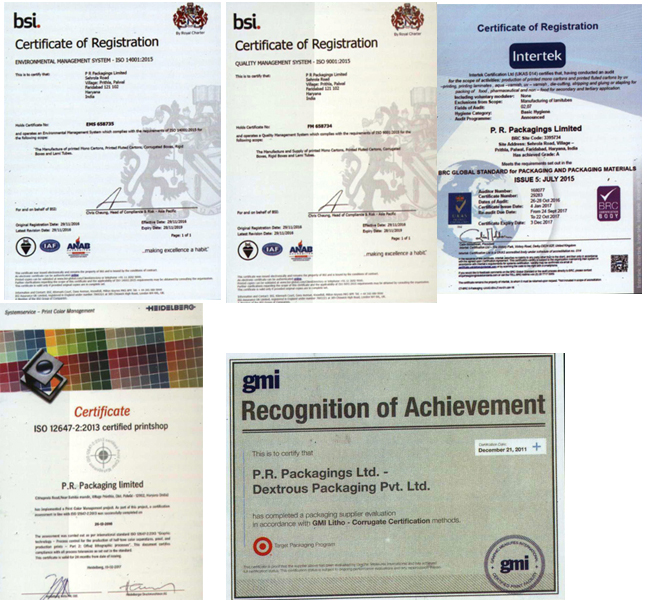 Read More